Life's too short
16:14:00
Shorts are a touchy subject...
I stand all of 5'6" (I prefer to think of myself as concentrated rather than short), meaning my jeans are usually around the 27-28" inseam. This is a chore as no shop (I've found) offer jeans of this length and of course means that shorts are usually not all that short.
Shorts should live up to their name; short. A good short should fall mid-thigh to just below the knee. The important word here is
just
.Too long and you enter 3/4 territory which often cuts men off at the wrong point, making their legs look shorter. Couple this with an array of cargo pockets and you can end up looking swamped and stunted. Too short is not good either; nobody needs to see that much flesh
Now as I've previously said, this blog is a matter of personal opinion so please don't take offence when I express my views. Saying that, I am launching an amnesty to save the men of Belfast from the scourge of white 3/4 length shorts. Cut off at the shin and coupled with either running shoes or dodgy sandals, they should be left in the shop.
A pair of plain khaki or navy shorts pretty much go with anything and still look relaxed. Pair them with Converse, boat shoes or, if you are brave enough, flip flops. I am not against flip flops really, just have decent toes (I over heard one guy describe his as looking like a packet of sausages the dog's been chewing) and be aware of where you are walking. I foolishly wore flip flops in London one day and was horrified on arriving back at the hotel to have a used plaster of unknown origin stuck to the sole of my foot.
Me last Saturday
Shorts have the potential to look smart, look at Ralph Lauren for some preppy inspiration. Wear with a shirt
or polo and you can look casual enough to be in the pub, but smart enough to be out for dinner later. If you want to go more continental, pull on a blazer and swap the converse for loafers. Just remember: no socks. If you must, buy those half-foot ones. They're about £1 in Primark. No excuse.
These are not rules; embrace the summer we're currently experiencing, wear a pair of shorts in a new way and have some fun. Show us yer shins!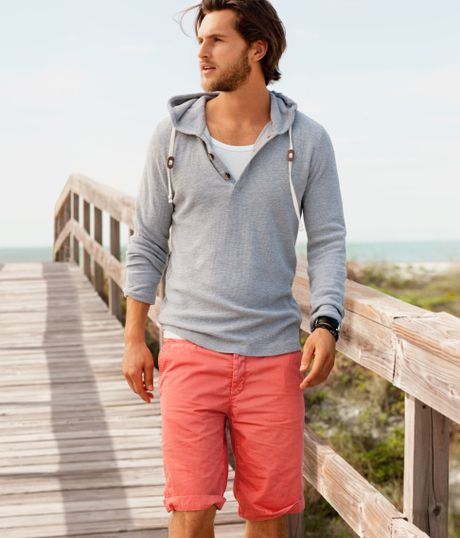 H&M Coral Shorts
Play with pattern - just remember the length!